The use of UHPC materials is becoming increasingly popular among engineering professionals in China and main part of the UHPC usages is to design new structures and solve difficult engineering problems. However, reducing costs, minimizing shrinkage, and improving performance remain key areas of focus for UHPC research. 

In 2022, full-scale UHPC structural tests were conducted to provide design and construction optimization guidance, and technical preparations for new UHPC engineering structures, such as lightweight wall and floor panels, large-volume and composite structural bridges, and onshore and offshore wind power structures, were completed, which will become new growth points for UHPC applications in the future.
In the last decades, China has made significant strides in the use of UHPC in bridge construction. Despite its high unit price, UHPC has become more widely accepted as its improved performance has been better understood and utilized through research and optimization. 
Through improved construction methods, efficiency, and larger application scales, the cost of UHPC bridges has been effectively reduced. In fact, some UHPC bridges now have a comprehensive cost that is comparable to or even lower than traditional materials and structures. UHPC bridges also offer benefits such as material savings, lower carbon emissions, greater durability, and lower maintenance costs. Given these advantages, UHPC is expected to become more widely used in the construction of new bridges and the repair and upgrading of existing bridges.
UHPC Consumption in Volume and Applications
In 2022, China's UHPC consumption exceeded 82,000 cubic meters, most of which used UHPC premix, about 122,000 metric tons.
The distribution of UHPC usage in 2022 is: 48% for bridges, 23% for buildings, and 29% for others (power and municipal engineering, repair and strengthening, etc.). 
In bridge applications, 
•    59% UHPC used for steel-UHPC composite girders or composite decks, with a completed deck area of more than 292,000 square meters.
•    22% used for structural connections of precast concrete elements (wet joints), and 
•    19% used for prefabricated elements (girder, deck, etc.). 
In building applications, 
•    45% UHPC used for prefabricated components (beam, column, staircase, etc); 
•    55% used for curtain wall,, the completed curtain wall area exceeds 317,000 square meters.
Main Projects Completed in 2022
The excellent mechanical performance and durability of UHPC can lead to lightweight and durable building components, improved performance, reduced resource consumption, and lowered carbon emissions during the construction process. 
 
Shuanghe Transformer Substation in Yuyao, Zhejiang Province.
Built with UHPC structure (precast R-UHPC column & beam) and UHPC sandwich wall (double UHPC panels & rock wool insulation).
This structure has an integrated design for load-bearing, fire resistance, and insulation, which reduces the need for maintenance and repair.
By using UHPC, the construction process was able to reduce labor by 20%, shorten the construction period by two months, and decrease CO2 emissions by 30% compared to traditional steel structures. (Photo by Zhejiang Hongri Tenacal)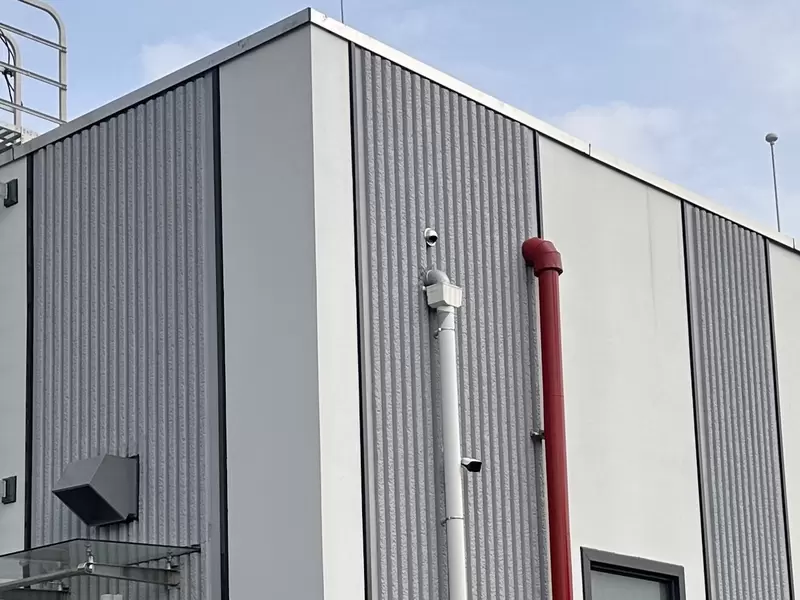 Huqiu Imaging Factory in Suzhou, Jiangsu Province.
Silver Winner of 2023 MUSE Design Awards for factory & warehouse. The building façade is cladded with white UHPC panels. (Photos by Zhejiang Possible)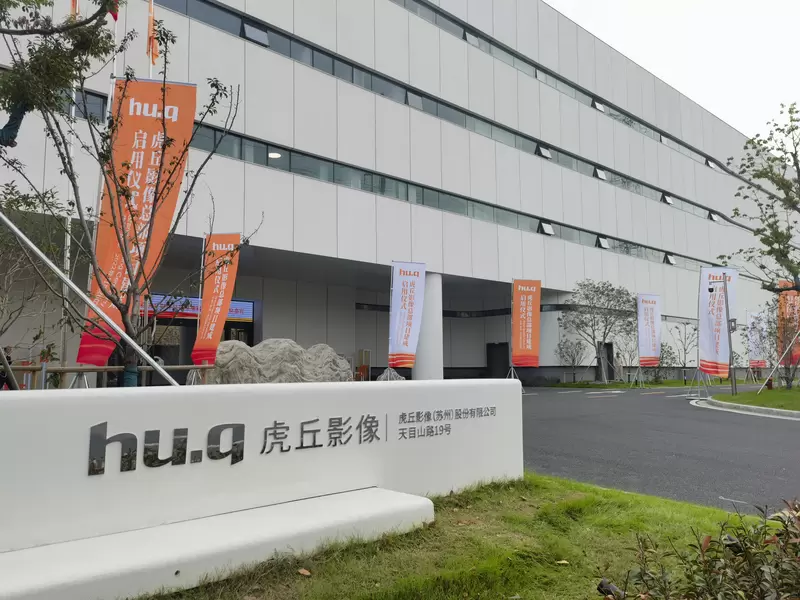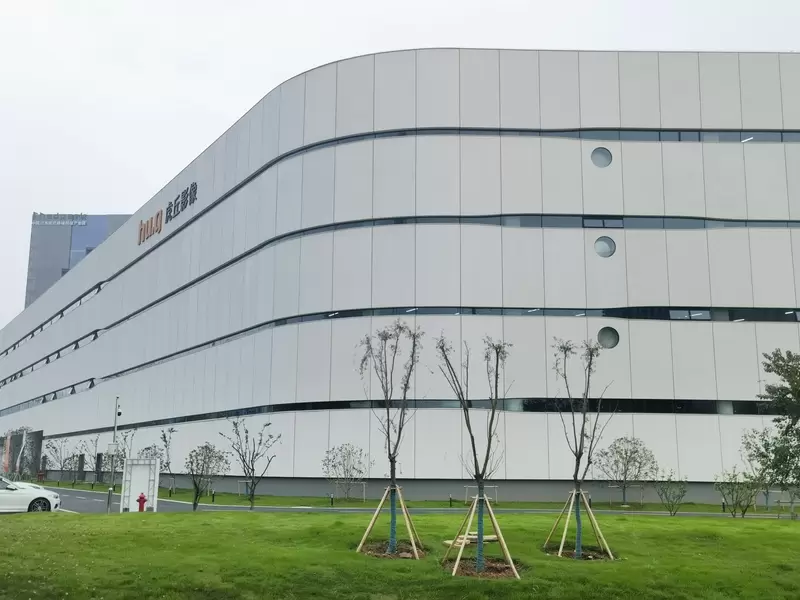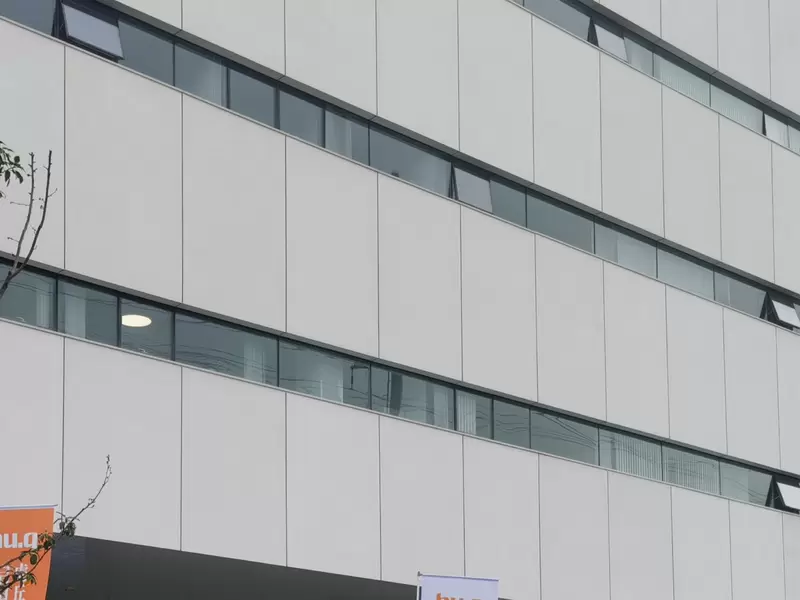 New Building of Fujian Jiankeyuan in Fuzhou, Fujian Province.
The façade is decorated with special shaped UHPC components. The complex structural design, high length-to-width ratio, and varying thickness of the components presented challenges in crack prevention, layout of embedded parts, mold production, and forming. 

Through extensive communication among architects, cladding designers, UHPC material experts, and production teams, an optimized design plan was developed through multiple stress analyses during the production and installation process. By switching from casting to spray forming, cracking was effectively avoided, and the production of high-difficulty UHPC irregular components was successfully completed through improved spray equipment and processes.  (Photos by Sobute)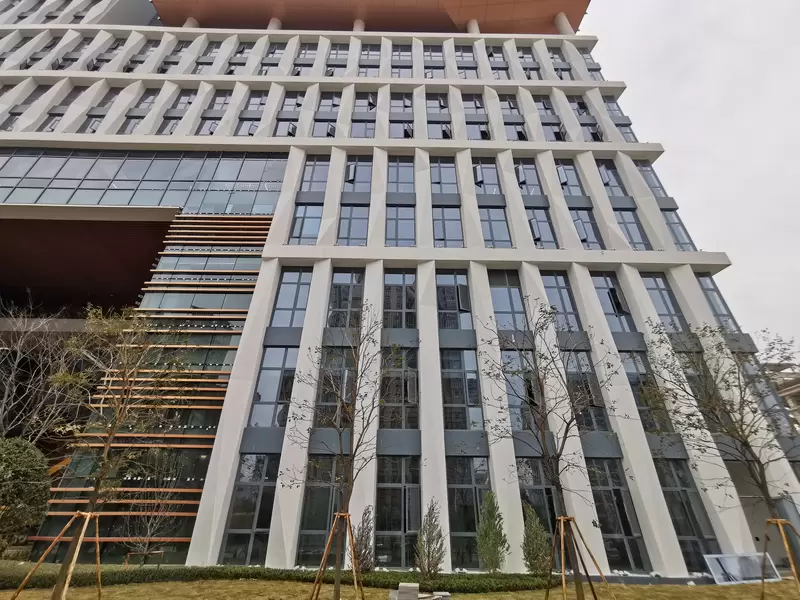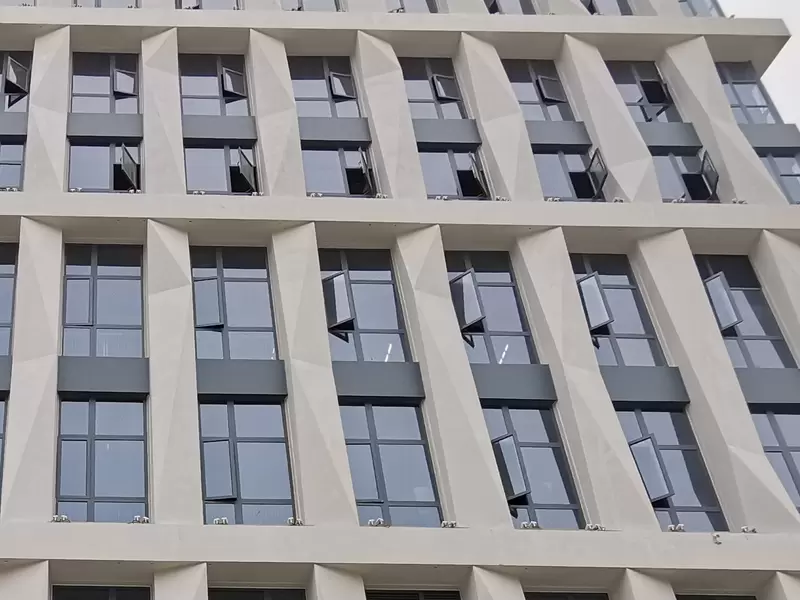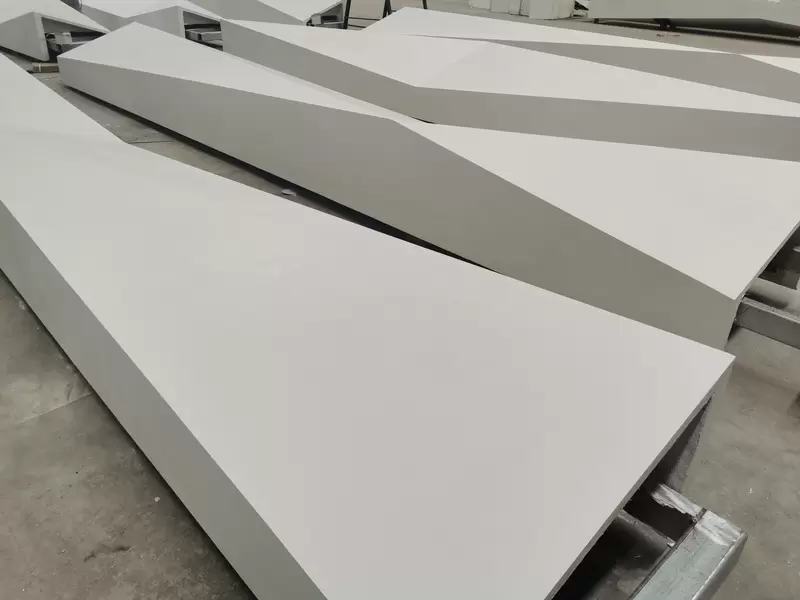 Xiliangtang Catherdral Church in Kunming, Yunnan Province.
The façade, interior wall and ceiling are cladded with UHPC panels. The surface texture is created using a polishing process, with visible seams between the installed pieces.
The precision required for manufacturing and installation of the structure is extremely high, with a maximum allowable error of 1mm at the intersection of adjacent panels (in terms of both planarity and perpendicularity).
The one-piece cross weighs 5 tons, and each individual UHPC panel has a maximum surface area of 12 square meters. (Photos by Shanghai Yicheng Juxin)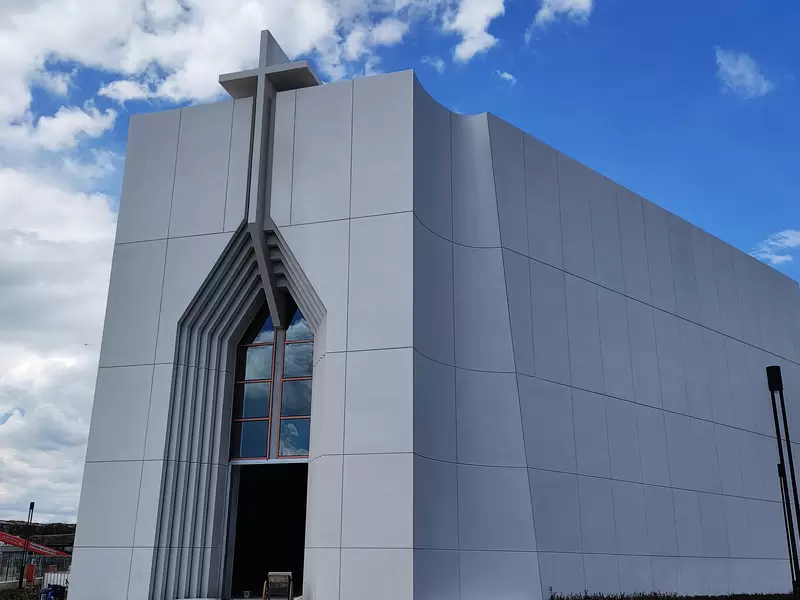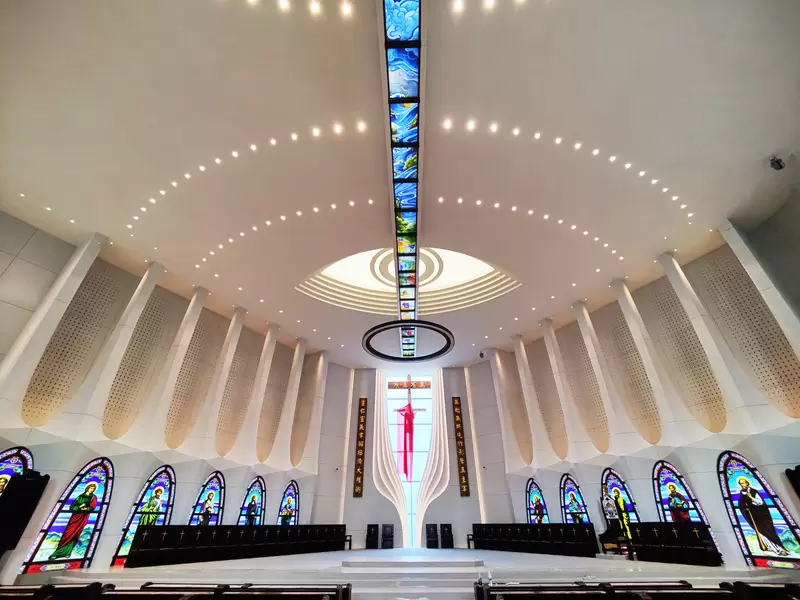 Lotus Pond Bridge in Suzhou, Jiangsu Province.
The Lotus Pond Bridge is aquatic boardwalk and platform built with white UHPC prefabricated structural components. The largest panel size exceeding 30 square meters.  (Photos by Shanghai Yicheng Juxin)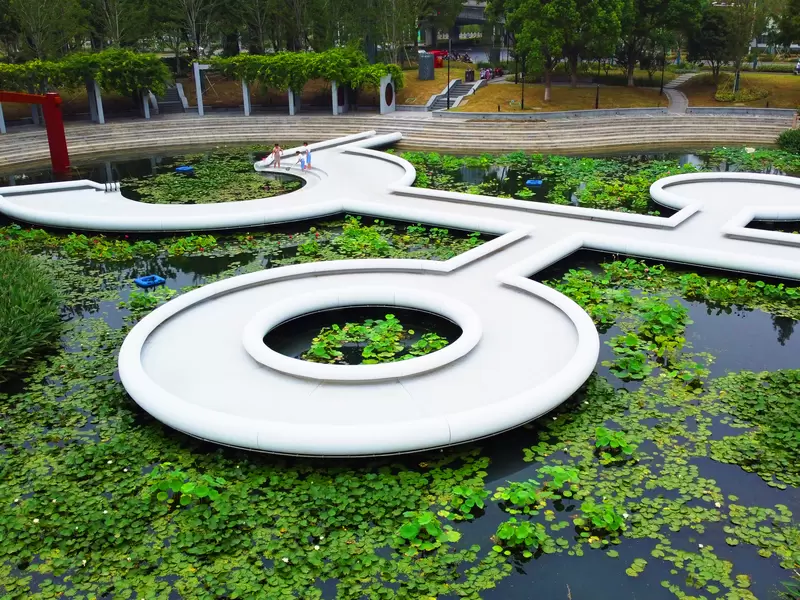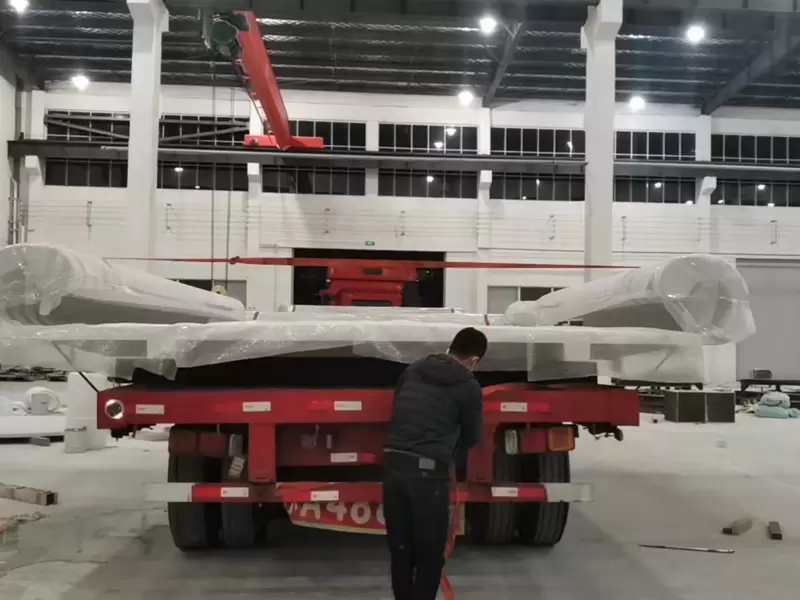 Lianshiwan Bridge (double deck bridge) of Xihuan Road in Zhongshan, Guangdong Province.
Placing, finishing & curing UHPC layer (70mm thick, 25,338 sq. meter) for the steel-UHPC composite deck. (Photos by Poly Changda Engineering)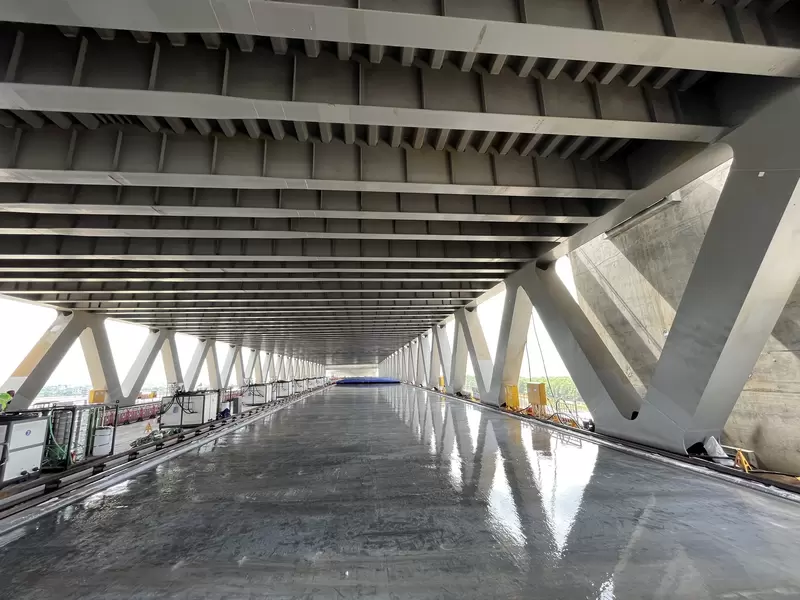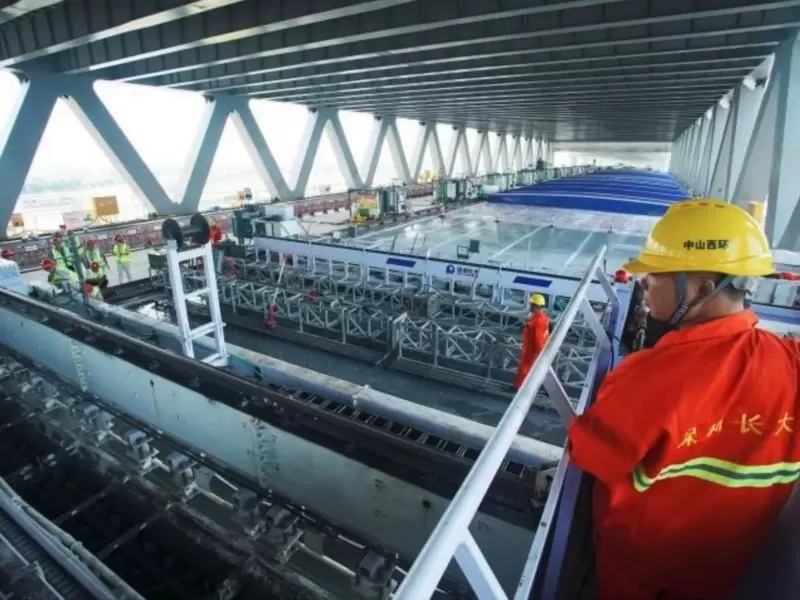 Danjiangkou Reservoir Cable-stayed Bridge, Danjiangkou, Hubei Province.
Innovated structure of steel-UHPC composite girder with average weight of 873.5kg per sq. meter of deck, constructed with efficient method. (Photos by Zhonglu Huacheng)