Background
Casafico is a privately owned business with its head office in Melbourne, Australia. They have been successfully converting waste resources into premium render coatings and building materials for several years.
With over 40 years' experience in the solid plastering trade and continuing R&D, their range of products have been developed specifically for the trade and uses science to identify which ingredients have the highest performance and minimal environmental impact. The extensive knowledge and personal experience have established them within the industry as having a solutions based approach.
Casafico understands that saving time and money is imperative to customers and for this purpose their products and methods have been designed to be lighter and faster for the applicator to use. Their range has also simplified to process for solid plasterers, just like their team who they describe as 'small but mighty' so too is their range, rather than having numerous products for different substrates our renders adheres to all substrates without the need for additives.
They have been recognized for innovation and sustainability by the Melbourne Business Awards/Australian Industry as well as finalist in Premier's sustainability awards, the Banksia awards and Architecture and Design. They are pioneers in the CSIRO and Kingston Council ASPIRE program, where they collect waste from local businesses. They've partnered with Technical Colleges and Universities to impart their knowledge of the benefits of cementitious building products, recycling and prefabricated building Educating and supporting the younger generation coming through the construction industry is essential and at the very core of Casafico's business.
Immagine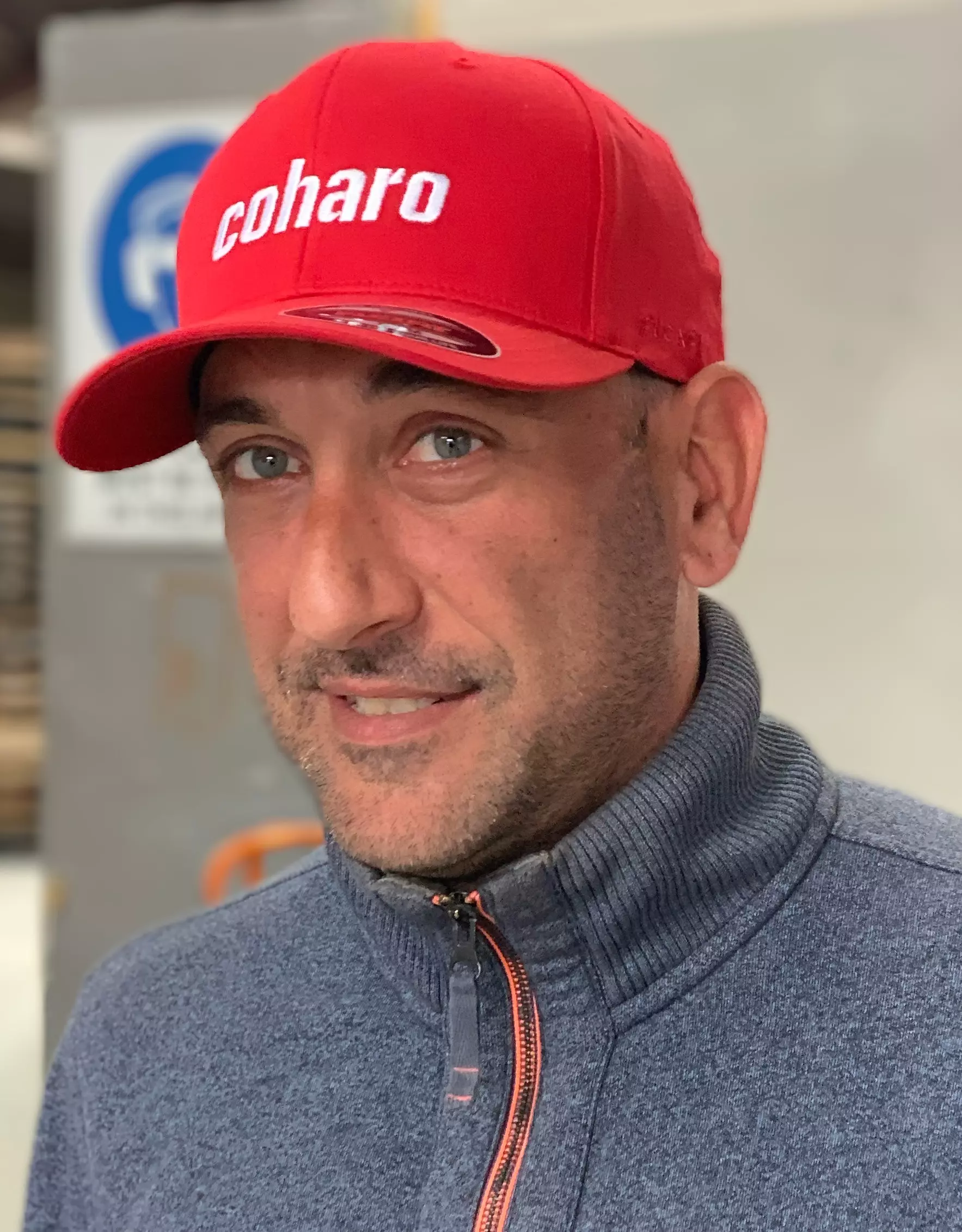 By using premium materials such as Aalborg White cement (Aalborg White Cement accounts for 30% of our coatings contents) , we are assured of brilliant, vibrant colours that works exceptionally well in our textures and smooth finishes.
Riccardo Mucci, Managing Director of Casafico
Q: Could you introduce some key products/brands made with Aalborg White cement?
Coharo Coatings
Leveling Coat - Highbuild render, LC is the first step to take when preparing a wall, it allows you to build up to 50mm we use this as a 8mm min coating standard
Smooth Coat - smooth preparation render. SC is the second step to prepare a wall ready for the finishing coat
Concrete Finish - Finish coat render to achieve concrete look
London Finish (polished stucco) - Finish coat render to achieve a polished venetian plaster look
Tecoblock - Lightweight cementitious building block
Polystat - Fire panels (residential cladding)
Q: Take example of lightweight panel and rendering products, what are your reasons for choosing Aalborg White cement? What properties of Aalborg White cement can be tailored to meet your products' needs?
The decision for us to use white cement was an easy choice, we manufacture a premium product, choosing pure white cement enables us to produce the highest quality products and offers consistency for our customers. Aalborg white cement is our safeguard that there are no impurities hidden within the cement and the chemistry of our products remain the same and allows us greater quality control. Secondly pure white cement provides us with the purest, most perfect base to colour our products, our customers are reassured that we can achieve consistent 'colorbond' colours each and every batch we make. Aalborg white cement is our competitive edge we choose to use this in our entire range.
At Casafico you can witness daily, our team working closely with our customers to achieve the exact look and colour that their customer wants, we welcome the trade coming in under our guidance making their own samples, or ongoing training and hands on personal approach to solving customer issues and help win business for our customers is unique to Casafico and valued by our clients.
Q: Could you introduce the project of four double storey townhouses in Melbourne as well as white cement based products' application and features in this project? 
225 Thames Promenade Chelsea Heights Melbourne Australia, 4 x 2 story Townhouse Development was our foundation project showcasing how we can 'build better' by using the Casafico Prefabricated method.
All of Casafico's products are made to be used in conjunction with each other, our Polystat walls are thermally efficient, structural and can be easily installed, our Tecoblocks can interlock to the walls, the panels easily fix to the walls and the coatings bring it all together seamlessly creating a greater efficient, longer lasting sustainable home, That can be built faster than traditional construction, with less resources and skilled trades and most importantly reducing waste, our job site was not only cleaner and safer than usual job sites but given that our materials contain at least 60% post-consumer waste we were able to save a cubic metre of waste for square meter of home, totaling an impressive 80 cubic metres of waste diverted from landfill.
Given that this project is a showcase for us the overall look of the townhouses had to be impeccable, it was architecturally designed and the colours chosen needed to be striking and timeless, the exterior needs to stand the test of time and not fade or discolour, by using premium materials such as Aalborg White cement (Aalborg White Cement accounts for 30% of our coatings contents) we are assured of brilliant, vibrant colours that works exceptionally well in our textures and smooth finishes.
Immagine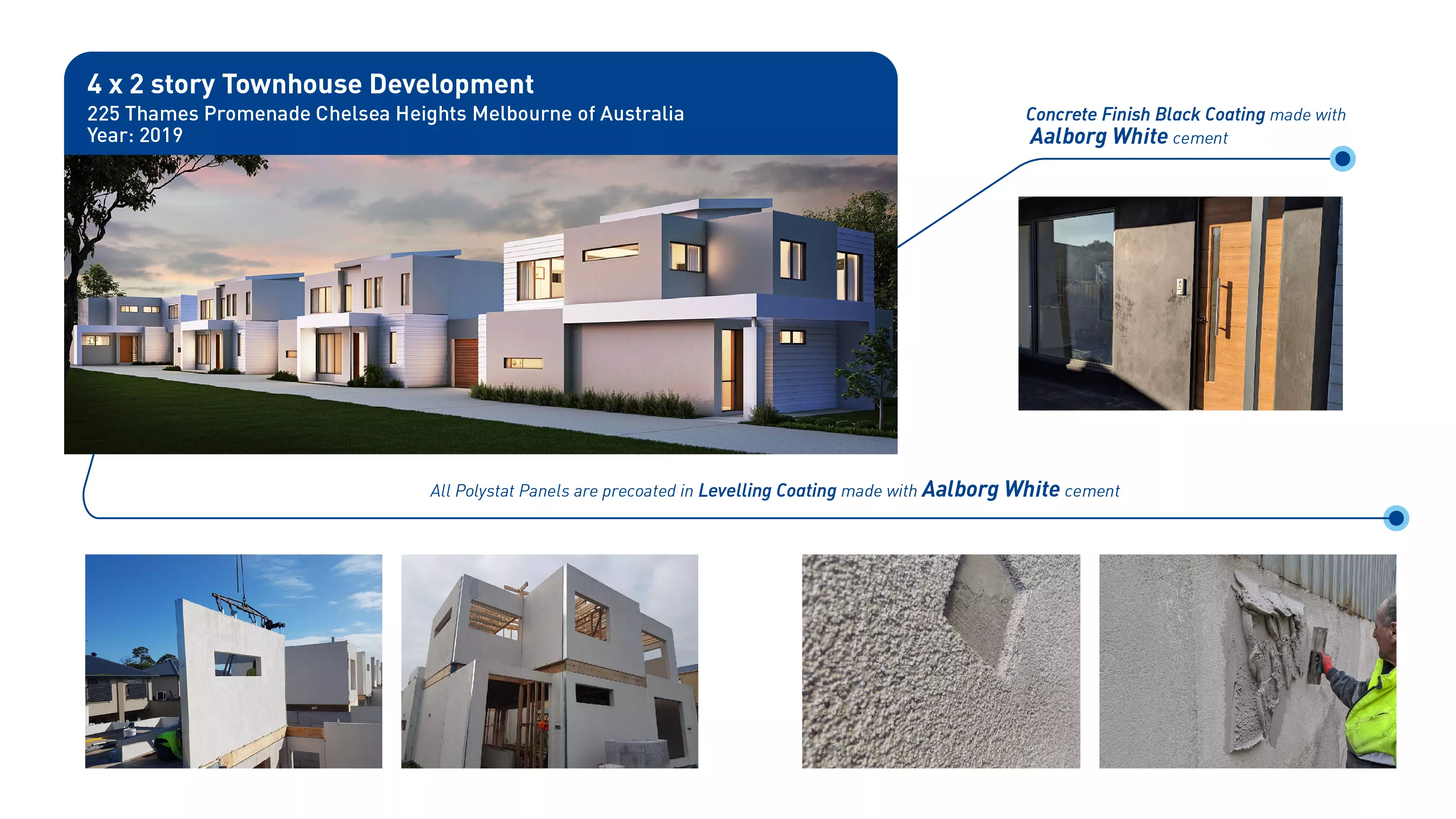 Special thanks to Samantha Mucci, Marketing Manager of Casafico, for arranging this interview.
Casafico Projects based on AALBORG WHITE® CEMENT
Immagine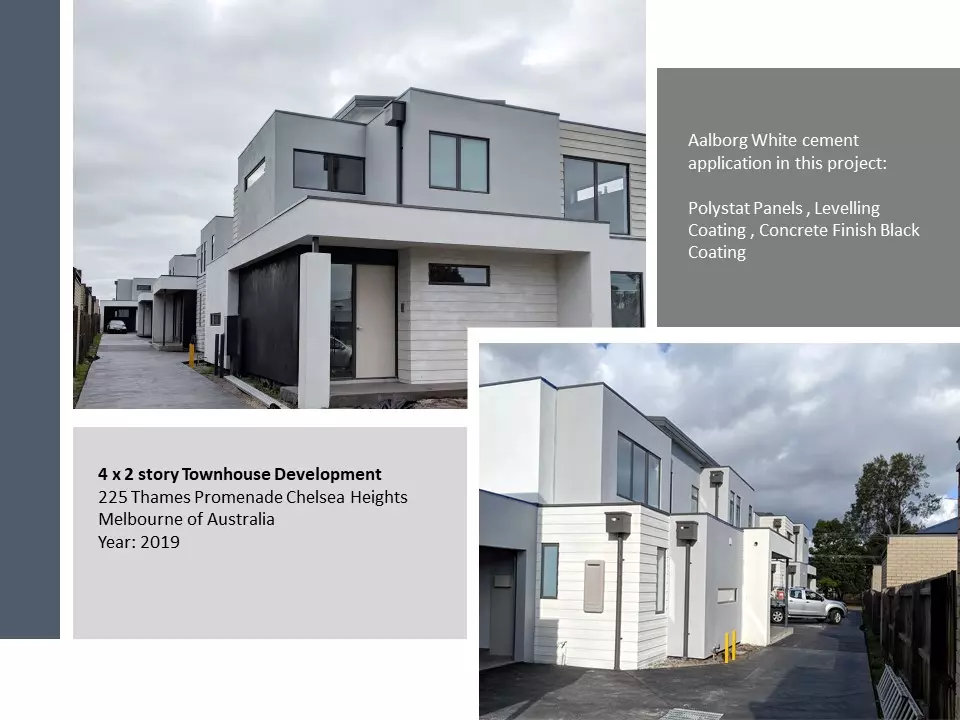 Immagine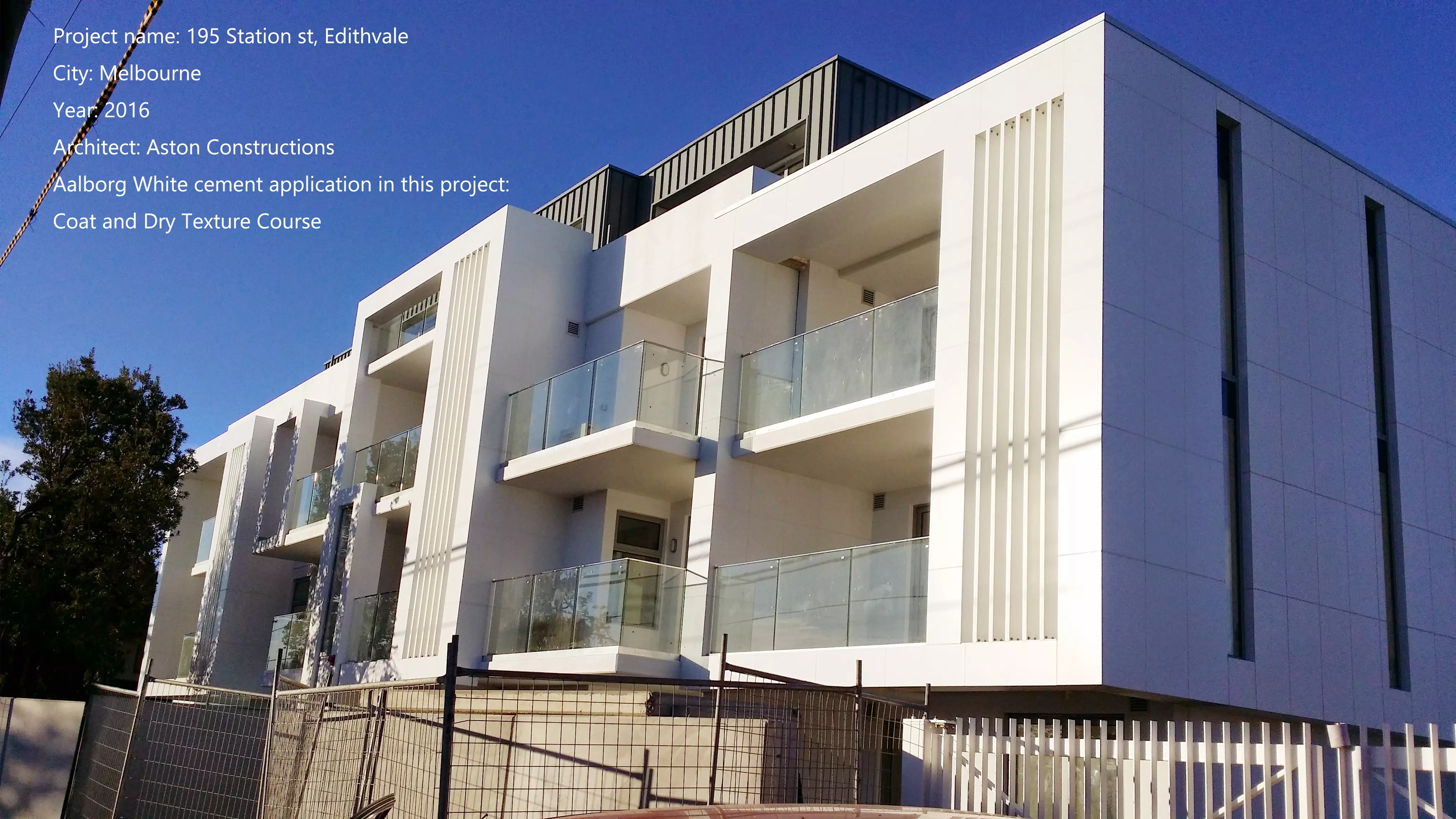 Immagine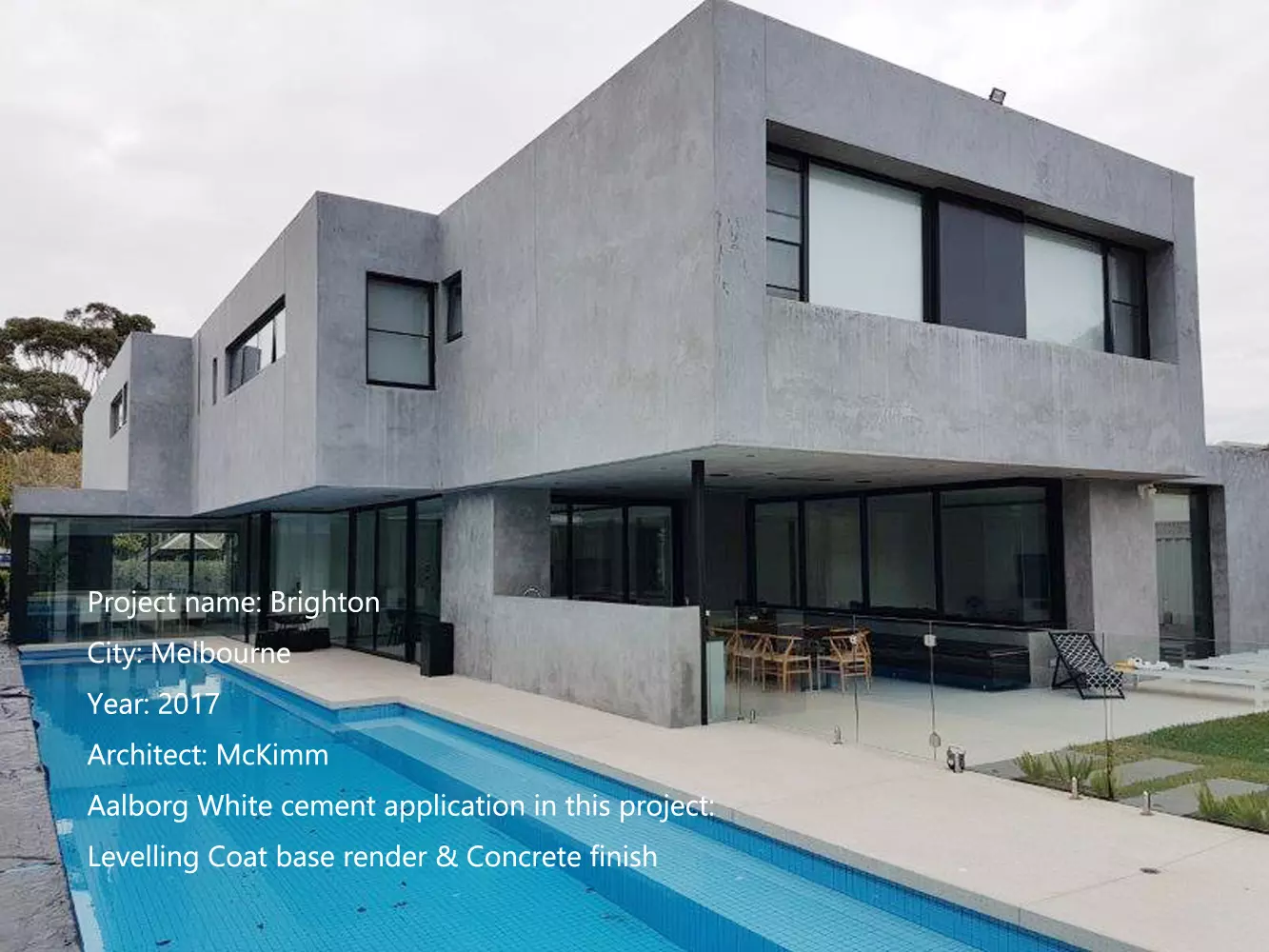 Immagine