432 Park Avenue is an upscale residential project in Manhattan, also the tallest of its kind in the western hemisphere. This uniquely designed project achieved excellent performance on structural stability, construction efficiency and sustainability with advanced cast-in-place white concrete technology. 
With 96 stories, this 1,396-feet (425.5 m) high building is adjacent to Central Park, Rockefeller Center and Broadway, together they form part of Manhattan's urban skyline. 

Looking like an extremely thin and elongated cuboid with no variations in volume ,432 Park Avenue occupies a very small area with only 93 square feet. Yet, it is the third tallest building in the United States. The building is made of cast-in-place white concrete, with its exterior composed of a grid of vertical columns and horizontal spandrels with 10 x 10 feet windows inserted in the middle of the grid without any other decorative elements. White concrete contrasts with dark glass windows concentrated the building into a black and white minimalist construction, creating a slender architectural symbol. 

It is a simple, powerful, but restrained design style, in which white concrete is of key importance in the expression of this intent. Visually, all non-essential elements were pulled away, leaving only wholistic grid images, presented by simplistic concrete structures, which not only act as a structural element, but also a decorative one, much more concise compared to other designs. The restrained design was expressed through the design methodology, material selection, and structural construction. 

A high-end tonality is expressed subtly through the building. Among Central skyscrapers, 432 Park Avenue is still the tallest, and a structural wonder with its extreme slenderness. By utilizing natural lights' reflection on regularly arranged glass windows and concrete grids, a gradient light is formed by lights coming from various angles, presenting a façade with perfect flatness. When delicate white concrete surface interacts with transparent glass windows through reflected lights, the uniformity and flatness of the grid indicates a high standard of cast-in-place white concrete technique.
The High quality and low-profile extravagance are both expressed by the façade flatness, surface texture and geometric tolerance.
Immagine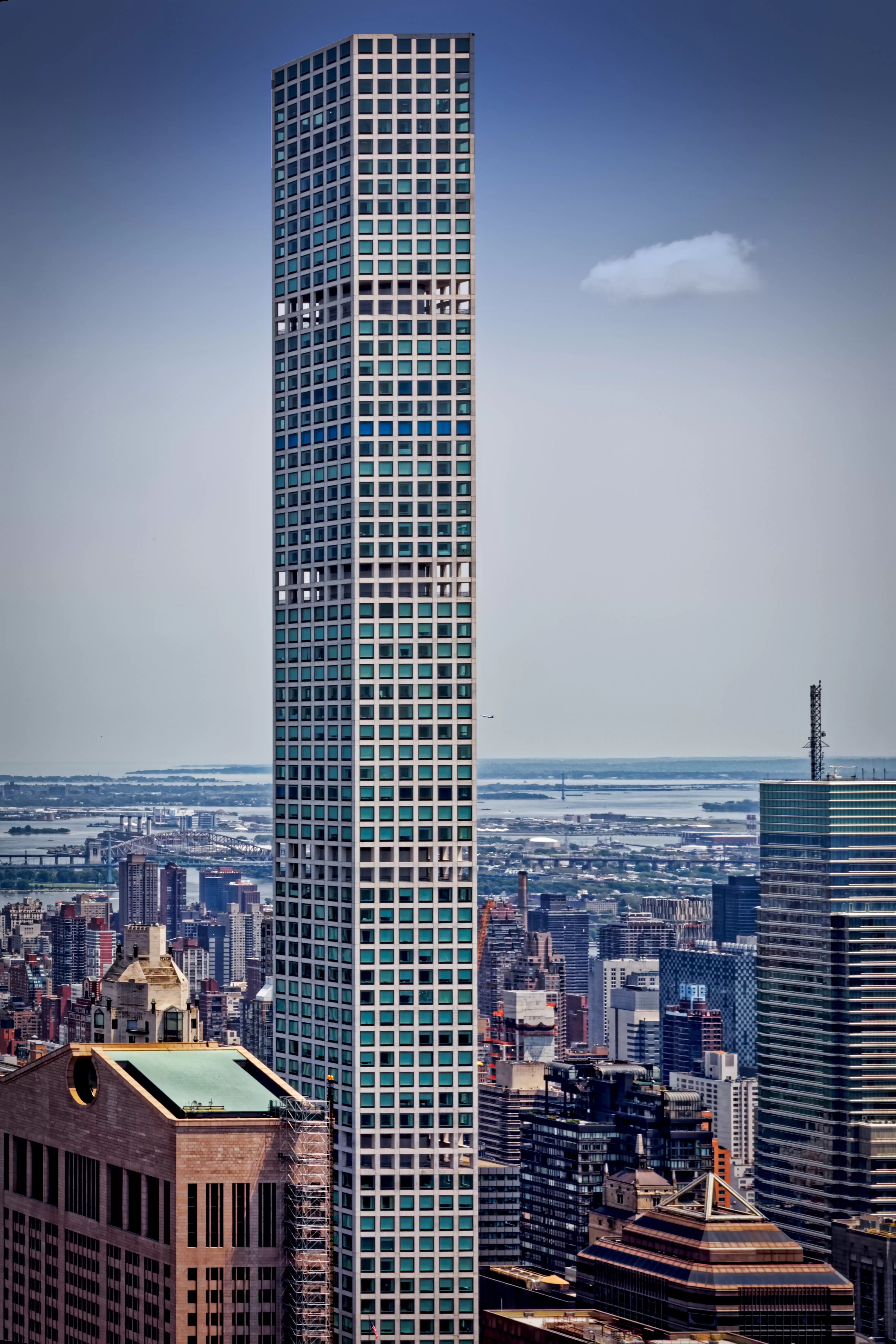 Cast-In-Place White Concrete Technology Applied to Skyscrapers
The project uses self-compacting concrete based on high strength Aalborg White® cement.
According to the project White Paper written by Joe Nasvik, the performance requirements for the concrete were developed by the engineer, requiring:

• High compressive strength — up to 14,000 psi
• High modulus of elasticity (MOE)— 7.7 msi (millions of psi)
• Self-Consolidating Concrete(SCC) — 30-inch spread requirement.
• Aalborg White ® Portland cement concrete with good color consistency
• Low heat of hydration — columns and other building elements were considered mass concrete, not to exceed 160°F.
• A pumpable mix for the entire height of the building
• Two-hour plus working time
• Low shrinkage
• Concrete floors "walking-hard" within five hours of placement in all weather
• Mixtures must have the same performance criteria in all weather
• Sustainable mixtures — 70 percent Portland Cement replacement with pozzolan materials.
432 Park Avenue is also LEED certified, meaning that the concrete can effectively reduce noise and heat transfer. The construction team replaced 70% Portland cement with sustainable SCM to reduce carbon in the concrete.     
432 Park Avenue is undoubtedly one of the most distinctive buildings in the white cast-in-place concrete project around the globe, due to its outstanding performance in design expression, physical properties and construction techniques.
 
Project Information:

Year:2015
Location: NY, USA
AALBORG WHITE® cement Application: White Cast-In-Place Concrete
Structural Engineer: WSP Cantor Seinuk, NYC
Construction Manager: Lend Lease, NYC
Concrete Contractor: Roger & Sons, NYC
Ready-mix Concrete: Ferrara Bros. Building Materials Corp, NYC
Concrete Consultant: BASF, Cleveland, Ohio
Architect: Rafael Viñoly Architects NYC