Located above the Yangtze River waterway, Chizhou Yangtze River Bridge is the first White Cast-In-Situ Concrete Bridge in China. Connecting two inner provincial cities —Tongling and Chizhou, it is also an important part of the "Five Longitudinal and Nine Transverse" expressway network in Anhui province. It officially opened to traffic in May 2019.
The main bridge is 5.8 kilometres long, with lanes connecting north and south end parkway, reaching a total construction length of 41 kilometres. This cable-stayed bridge has two towers, 237 and 246 meters high respectively, made of highly durable fibre-reinforced White Concrete.
The total amount of concrete consumed 5,000 tons of AALBORG WHITE® 52.5 high strength White Cement.
The design concept of the bridge embraces the cultural characteristics of Chizhou Buddha beads. The colour of white and gold representing Buddhism is also adopted. Decoration beads are placed on the surface of the tower creating a vivid image, where white concrete bridge towers are symbols for peace and emptiness, and yellow Buddhist beads are for dazzling expression and imposing authority. The vase-shaped tower design incorporates concept of Buddha's hands, Buddha's beads and Buddha's lights: the tower column looks like Buddha's hands with palms together and fingers crossed; the yellow steel balls wrapped around the steel beam represent Buddha's beads; while cables radiating from the tower symbolize Buddha's lights. The stunning design realized the unification of bridge construction, aesthetics, and human culture.
Immagine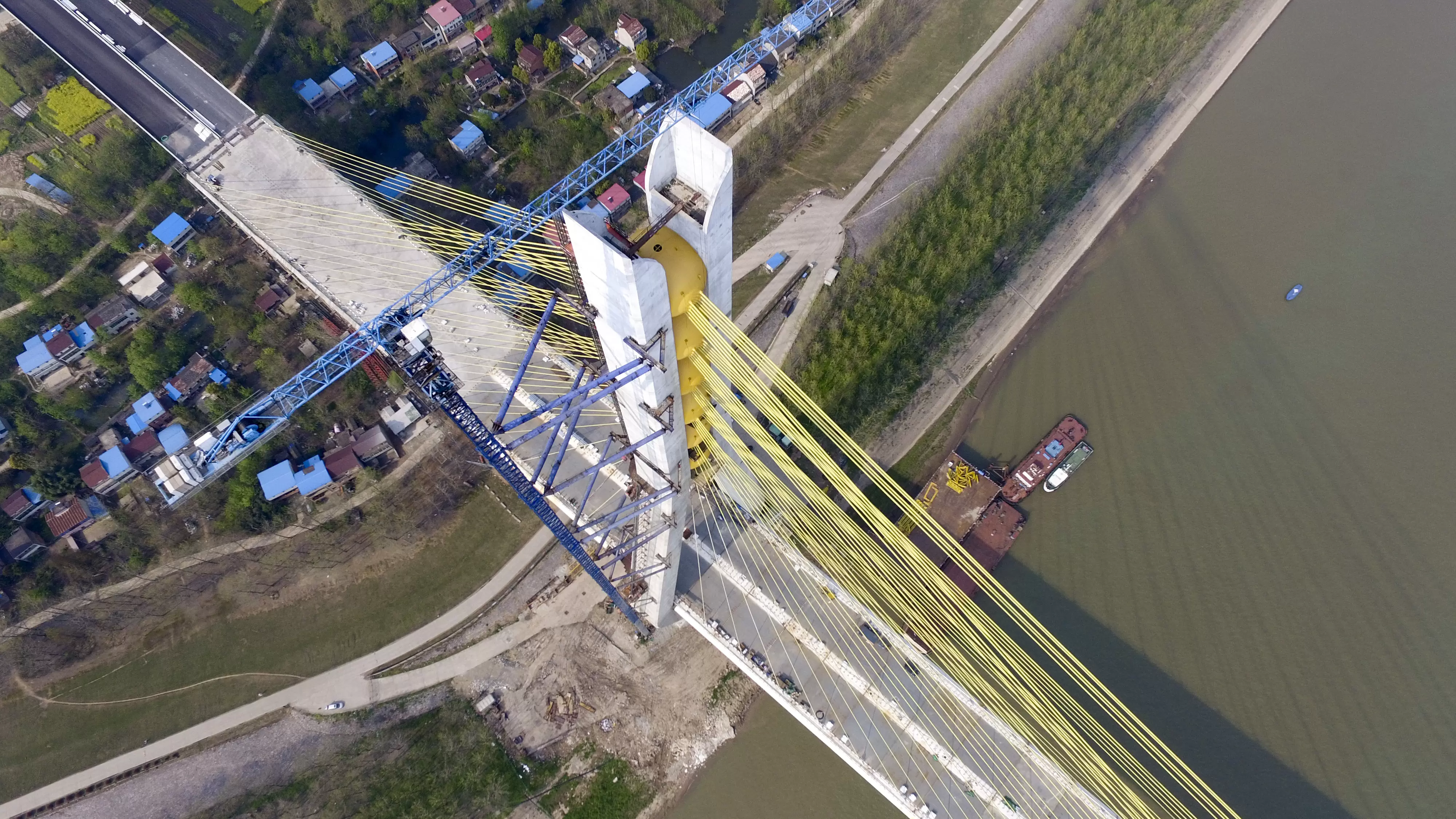 Major Technological Innovations
The "skin-like functional concrete" is the next era structural product. By mimicking "skin-effect" drawn from bionics, it uses 36cm-thick white fiber-reinforced durable concrete made from Aalborg White cement as outer layer, and ordinary C50 concrete as the core. The logic behind the product was a composite material technology, which constantly changes the composition percentage and material structure of the ingredients, forming textures similar to that of the skin, creating a new type of heterogeneous composite concrete with gradual  properties and functionalities. This new concrete can eliminate internal stratification, moderate interfacial tension, and improve crack resistance, durability, and aesthetics. The use of this new concrete allows the integration of functional & structural concept design and has maximized the towers' structural functionality and economic traits.
Immagine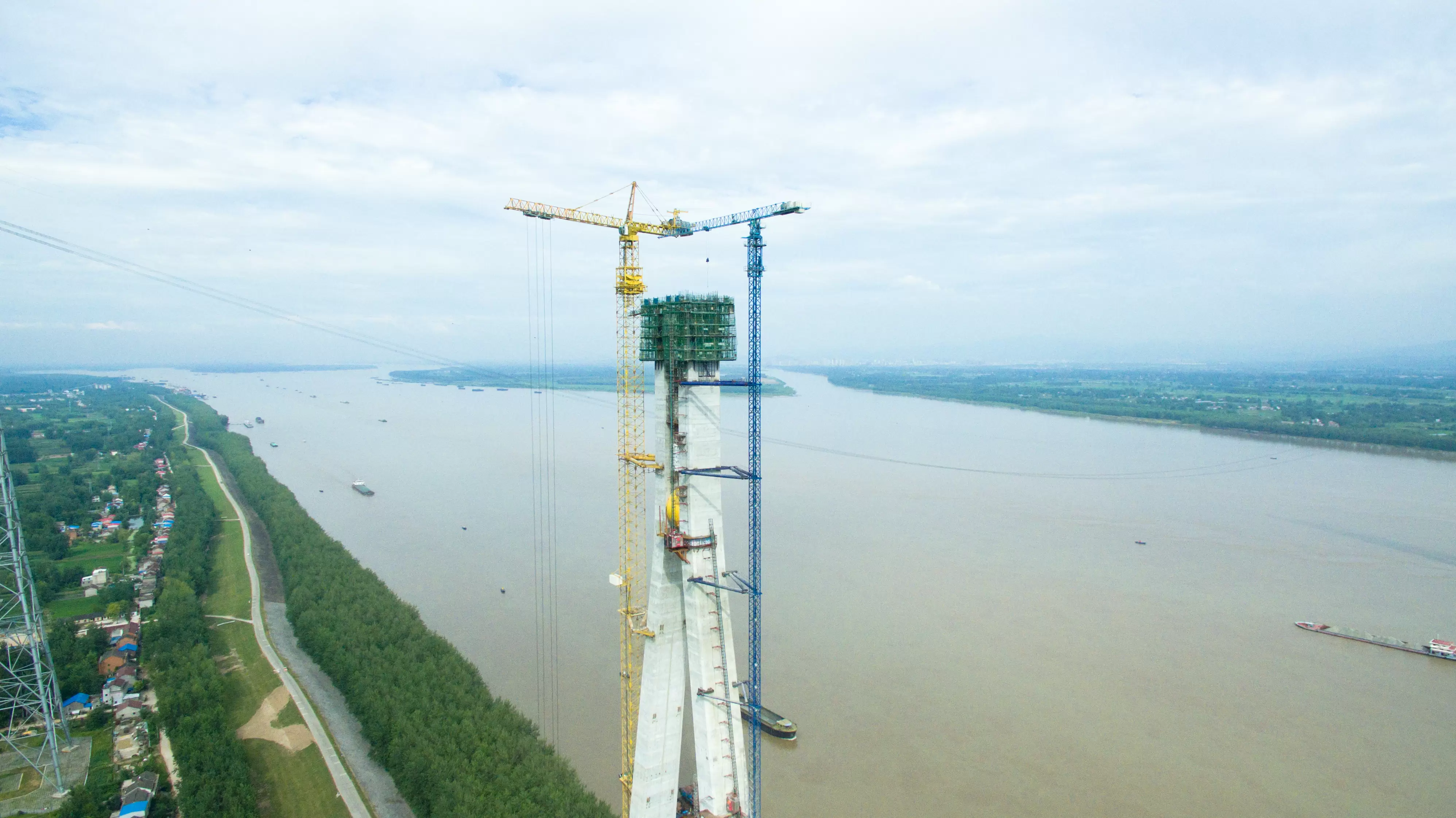 Construction Difficulties
This is the first time applying the white fibre-reinforced high-performance concrete to the function layer of the main bridge tower, thus not much precedence to be followed, which increased the construction difficulty. This special concrete is made of Aalborg White cement, providing a higher standard for concrete crack resistance, durability and aesthetics.
Two types of concrete were used for the main towers: an external, functional white concrete layer and structural ordinary concrete core. This means, not only a higher standard of construction techniques was required, but also solutions for concrete insulation and compatibility were needed.
The functional white concrete layer of the main tower required two sets of mixing pumps and pouring equipment to work synchronously at a high altitude, adding high complexity to construction management.
Project Information:

Year: 2015

Main Construction Material: Cast-in-situ Concrete based on AALBORG WHITE® cement

Construction company: Zhongjiao Road Bridge Construction Co. LTD

Designing company: China Railway Major Bridge Reconnaissance & Design Institute