Increasing ecological burden caused by centuries of massive deforestation and other various human interventions has posed great survival challenges for those species who fail adapting to violent environmental changes. However, many are working to address this issue. Naturalis Biodiversity Centre, a national biodiversity research institute designed by architect Neutelings Riedijk in collaboration with fashion designer Iris van Herpen in Leiden, Netherlands, is one of them. This majestic building combines prefabricated concrete structures with complex curved precast concrete claddings presenting itself with a delicate touch. 
The new building of the Naturalis Biodiversity Centre is supported by a multi-story precast concrete structure. Under the step-like structure is where the main functions are placed and connected by a huge 3D structure made from white precast concrete with wood-coloured surface. The structure consists of interlocking molecules as a lace of ovals, triangles and hexagons creating a balanced space, neither too heavy nor too light. With the introduction of filtered natural light and golden indoor lights, the indoor space manifests an unadorned elegance. The use of single units in replica lowered significantly the construction costs, while curved precast concrete slabs enriched the expression of the façade.  
Immagine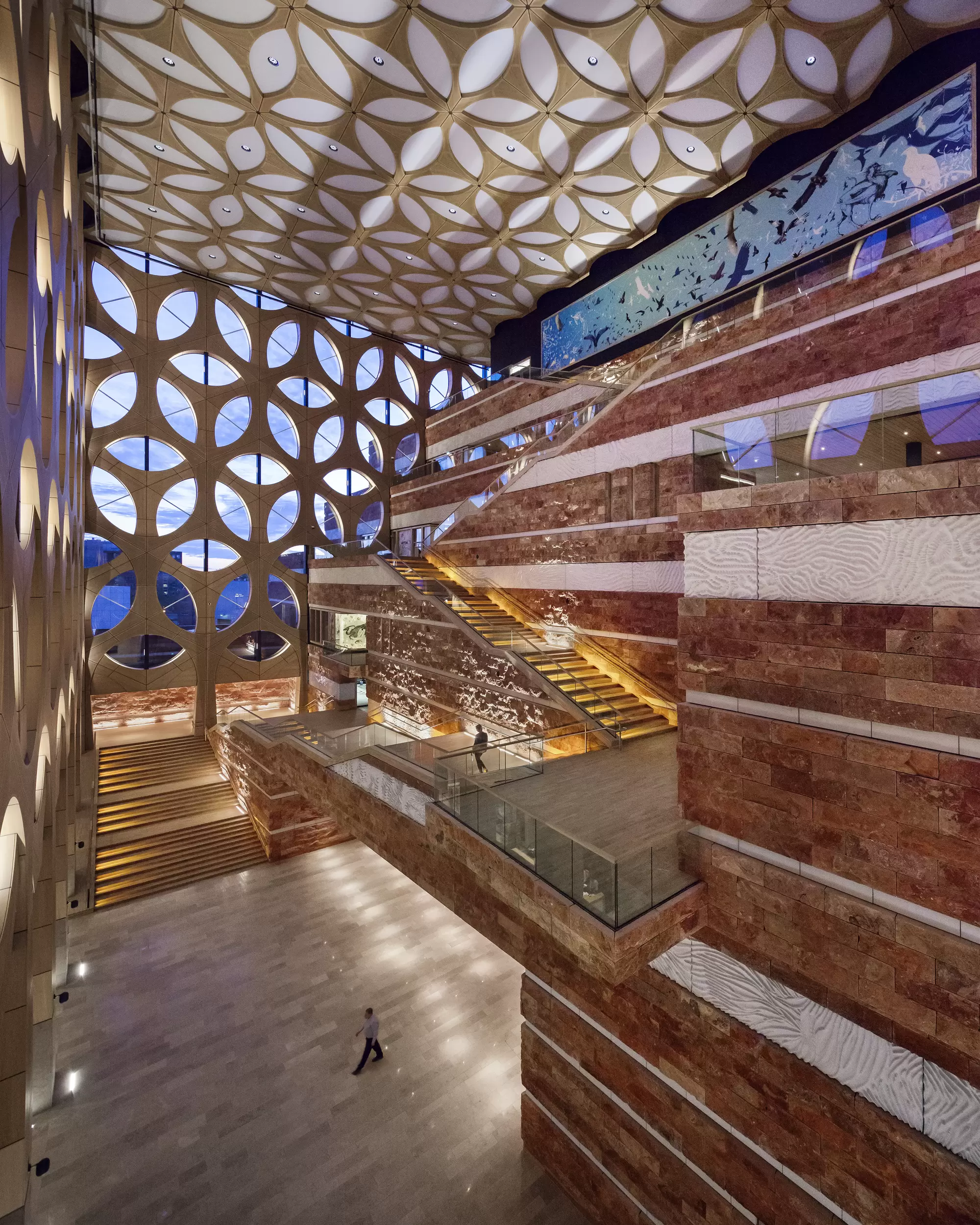 Immagine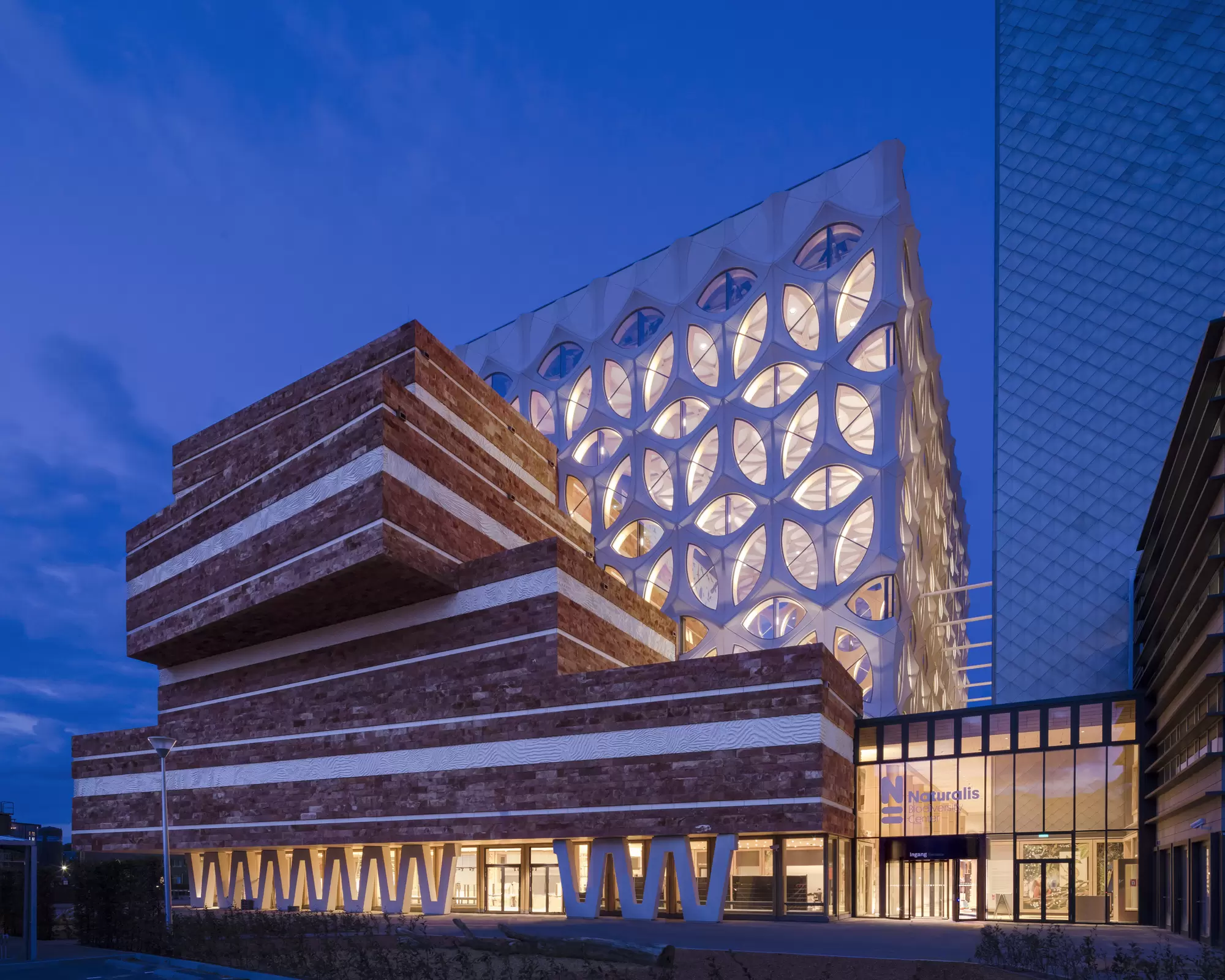 When allocating space for an Atrium, factors such as load bearing, concrete tension, cracking and structural disturbances need to be considered. To maximize the open space and allow its enriched façade interior being displayed before its audience, a precast concrete assembly was used to enable the extensive span. 
The interior wall is wrapped by horizontally layered artificial stones mimicking a geological structure, in which 263 Aalborg White cement based white concrete panels are embedded, forming a smooth and silky decorative belt, breaking the otherwise undisturbed pattern of white concrete. 
Thanks to a special technique developed by Naturalis, the renowned Dutch fashion designer Iris van Herpen was able to bring white concrete to life with kaleidoscopic, yet natural and harmonious, texture similar to that of rocks crafted by weathering and deposition in nature for millions of years. The softness, flexibility and coherence exhibited by white concrete relief contradicts the decorous and stable nature of stones. Horizontally positioned layers flow through blocks ever enriching the expression of the façade. 
Immagine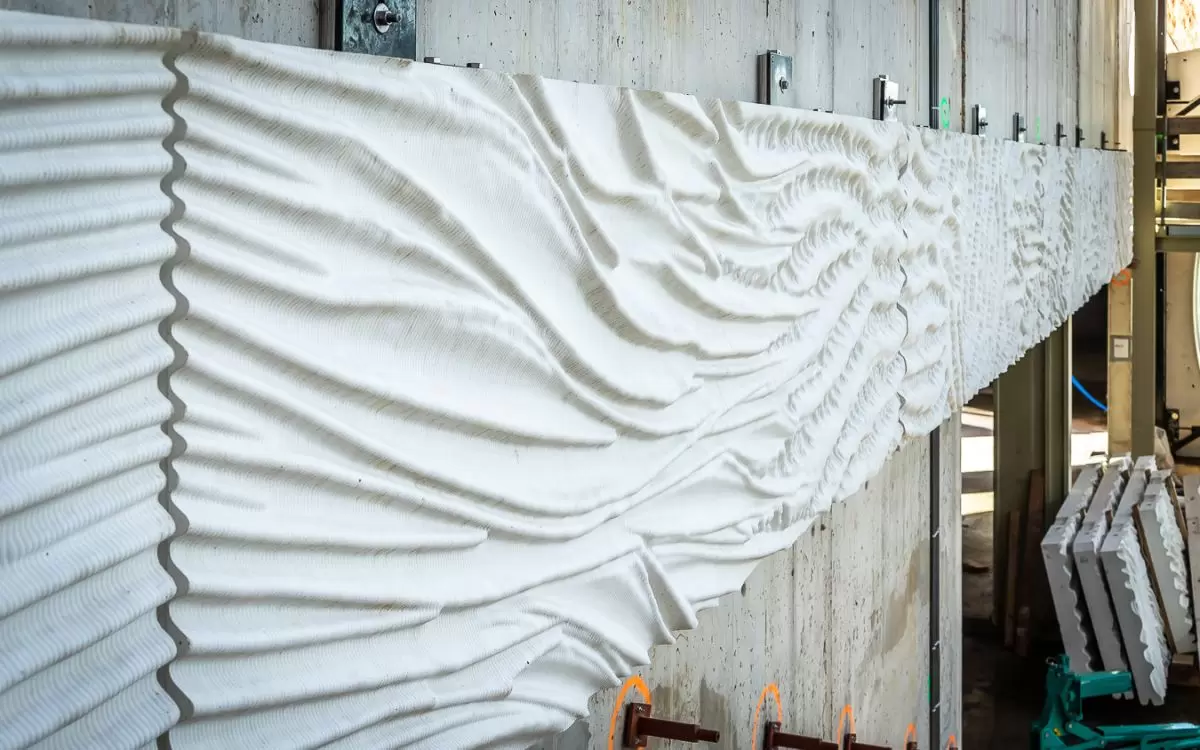 In this project, precast components of white concrete have played different roles at different scales. From the macro level, crown-shaped precast concrete components exercised the functionality in structure, while intricating the unit façade appearance  with its sandstone textured curved surface; from the micro level, decorative belts demonstrate the shaping advantages of concrete, showing exquisite and varied textures. The manipulability of concrete is mastered through the project.
Project Information:

Year:2019
Location: Leiden, Netherlands
AALBORG WHITE® cement Application: Precast concrete in facade
Architect: Neutelings Riedijk
Structural engineer: Lievense
Contractor: JP van Eesteren
Prefab: Hibex B.V.
Photo: Scagliola Brakkee & Hibex B.V.
Area:38000 m2