The 23rd China Xiamen International Stone Exhibition concluded successfully on June 8, 2023, after running for four days. This year's exhibition, which spanned over 170,000 square meters of exhibition area and featured eight theme exhibition areas, took advantage of the "return" as an opportunity to continue the previous session's theme of "sharing the new ecology of the stone industry." The event showcased the latest trends and developments in the global stone industry, with 1,300 exhibitors from both domestic and international markets displaying new products and technologies.
 

01/
The new trend of stone industry: green inorganic artificial stone
It has been found that 90% of the inorganic artificial stone manufacturers at this exhibition have used Aalborg White cement as raw material in their products. Aalborg White has been favored by customers due to its high consistent quality and has established itself as a prominent player in the inorganic stone industry. With the national low-carbon development strategy and the promotion of green human settlements, more and more resin artificial stone manufacturers have shifted towards producing inorganic artificial stone. 
The inorganic stone products being showcased at the event are developed by Fujian XiMaTai, using Aalborg White CEMI 52.5. Apart from being environmentally friendly, inorganic stone products also exhibit exceptional wear and weather resistance, making them ideal for use in large infrastructure projects such as high-speed railway stations and subways for flooring and interior wall applications.
Image
Image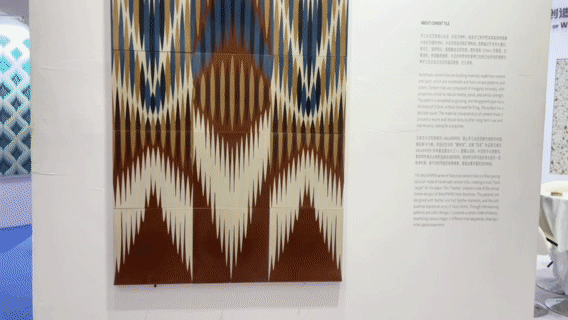 Image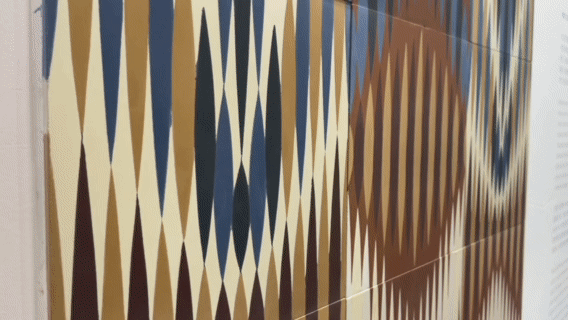 02/
Nanchow® x Aalborg White ® : From high quality raw material to handmade encaustic cement tile
Nanchow and Aalborg White Cement have teamed up again to exhibit a brand new collection of handmade cement tiles with a feather motif at our booth. This collection is a part of Nanchow's "hard carpet" series, which provides predetermined sizes and finished graphics with a "what you see is what you get" approach. In contrast to the traditional use of cement tiles in a quadrilateral continuity patterns, this series offers a complete carpet of cement tiles with a feather design. The design includes full and half-feather shapes and utilizes color changes to create a visually striking decorative ambiance.
Cement tiles are a versatile building material that serve both functional and aesthetic purposes. They are suitable for flooring and wall adornment and are renowned for their distinctive artisanal characteristics. The production process of a single tile involves approximately 13 intricate steps, and Nanchow employs premium-grade Aalborg White cement in its manufacturing process. The quality of the end product is heavily influenced by the selection of raw materials, and Nanchow is dedicated to enhancing the quality of its handmade cement tiles through continuous improvement.
The handmade cement tile has a rich history spanning approximately 200 years, originating from the Mediterranean Sea before spreading to Southeast Asia. It was later introduced to China by overseas Chinese, with the country's first private brick factory established in 1921 on Gulangyu Island in Xiamen. Over the past 70 years, cement tiles have become a popular choice not only for high-end buildings but also for home decoration. Even today, many buildings in coastal areas continue to use cement tiles, a testament to their proven durability that can last for centuries.
03/
Focus on innovation and low carbon development: InWhite® & Futurecem®
Alborg White Cement has made its second appearance at the Xiamen Stone Fair, an event that attracts professional visitors from all around the world. We also showcased InWhite UHPC perforated panels, demonstrating the Group's commitment to customer driven innovation in this new era. Through the "Launch Out @XSF" Forum, Aalborg Porltand Anqing presented Cementir's low-carbon practices to the professional audiences coming from different countries.
Image