White concrete's versatility and aesthetic appeal make it a compelling choice for outdoor furniture and landscaping ornaments. Its ability to blend seamlessly with different design styles, durability, and weather resistance, along with its sustainable qualities, position white concrete as a material of choice for those seeking to create stunning and functional outdoor spaces.
Urbastyle uses architectural concrete for an array of concrete elements whose shape, finishing, colour, texture and excellent quality bring an essential contribution to outdoor decorative elements like benches, planters, tiles, and more. The main characteristic stands on its almost unlimited style, colour or surface possibilities in complex shapes by using different molds. By working in close relation with architects, designers, engineering offices, we have consistently pushed the boundaries of concrete city furniture, constantly striving for design excellence.
Varying Finishings Can Be Chosen

In Urbastyle plant, 4 different possibilities of concrete finishings can be chosen, either "fair faced", leaving the concrete skin as it is out of the mold, either "micro-etched", where concrete comes with a light irregular texture, either "polished", where concrete is mechanically polished like a mirror, either "velvet" that is a manual finishing that leaves a really nice feeling of fine softness. We have also a "Satin" finishing only for slabs as it is a machine made finishing creating a very fine and regular texture, a bit satin-matt, of great beauty. It is interesting to notice that, depending on the finishing you choose, starting from a same identical block, they can get colors variations and texture effects radically different. 
Image
Image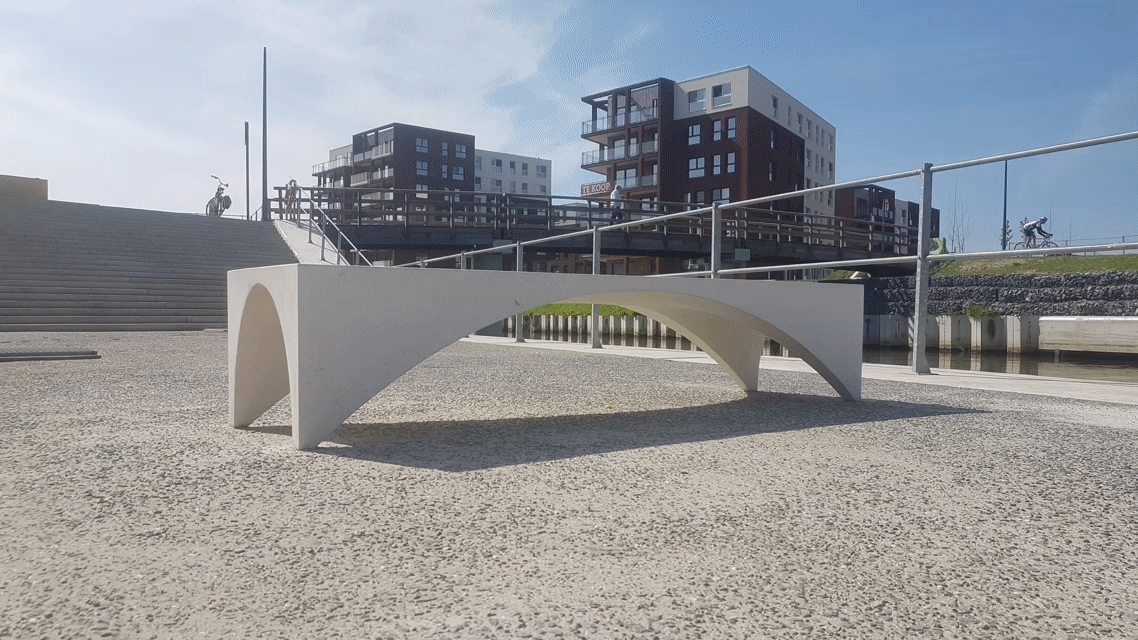 Innovation: Ultra Slim Furniture Made With UHPC 
Some of our furniture is made with UHPC based on Aalborg White cement that does not use a metallic structure because it is reinforced with fibers. We can get thinner very resistive thicknesses with high performance. If it breaks, the different elements are not maintained together by an internal metallic structure, it can break into different parts. You should then know very well why and where to use this kind of material, so it does not create any safety failure for the users. 
 
We will showcase several sets of highly distinctive city furniture and gardening ornaments cases by Urbastyle,
BVLGARI HOTEL AND RESORTS, DUBAI

LOCATION: JUMEIRAH BAY, DUBAI
Shiny white polished Galet benches for Bvlgari Hotel and Resorts in Dubai have below features:
•    Bench Galet VI
•    Polished finish
•    White HRAC concrete
Immagine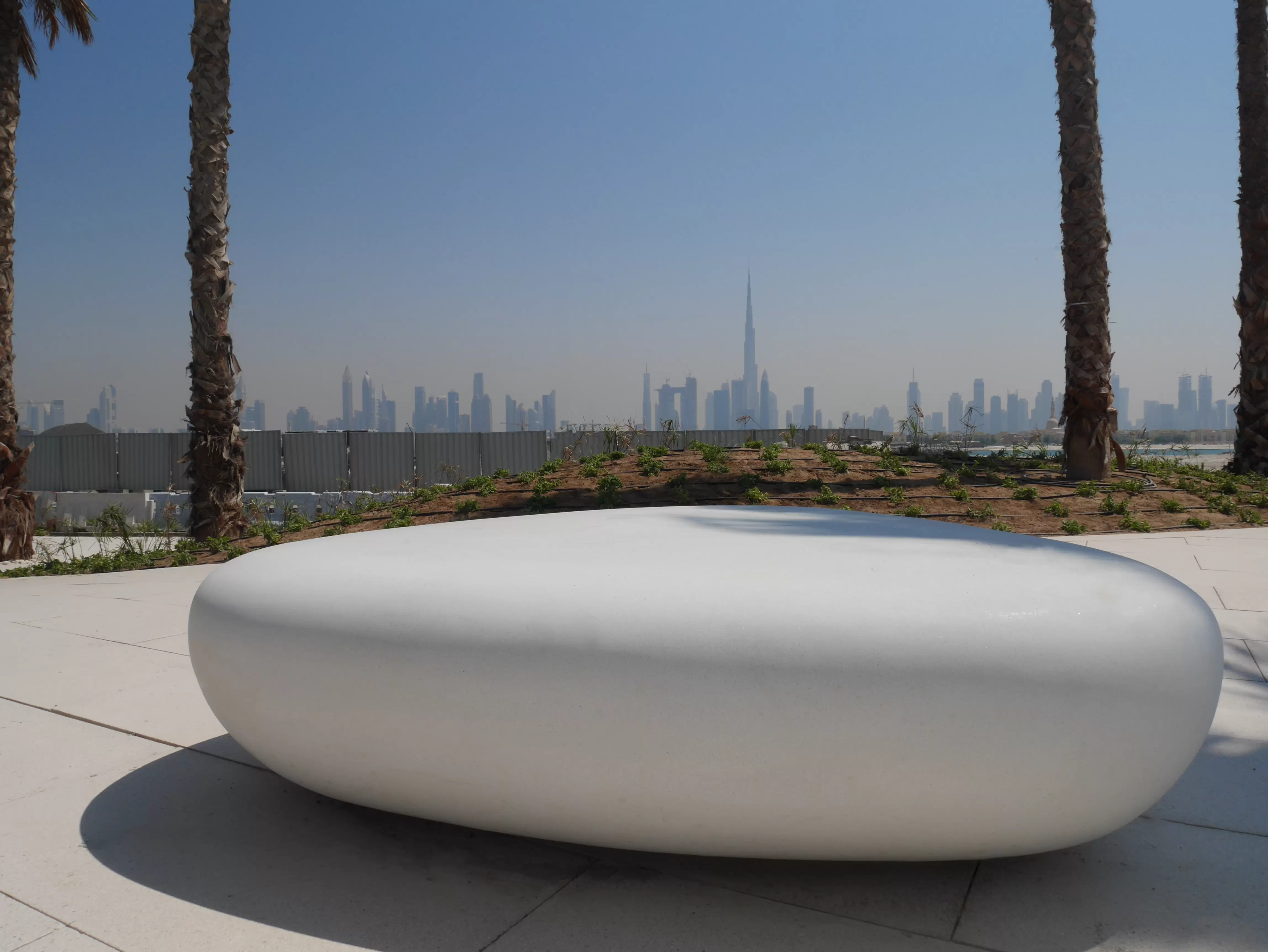 Immagine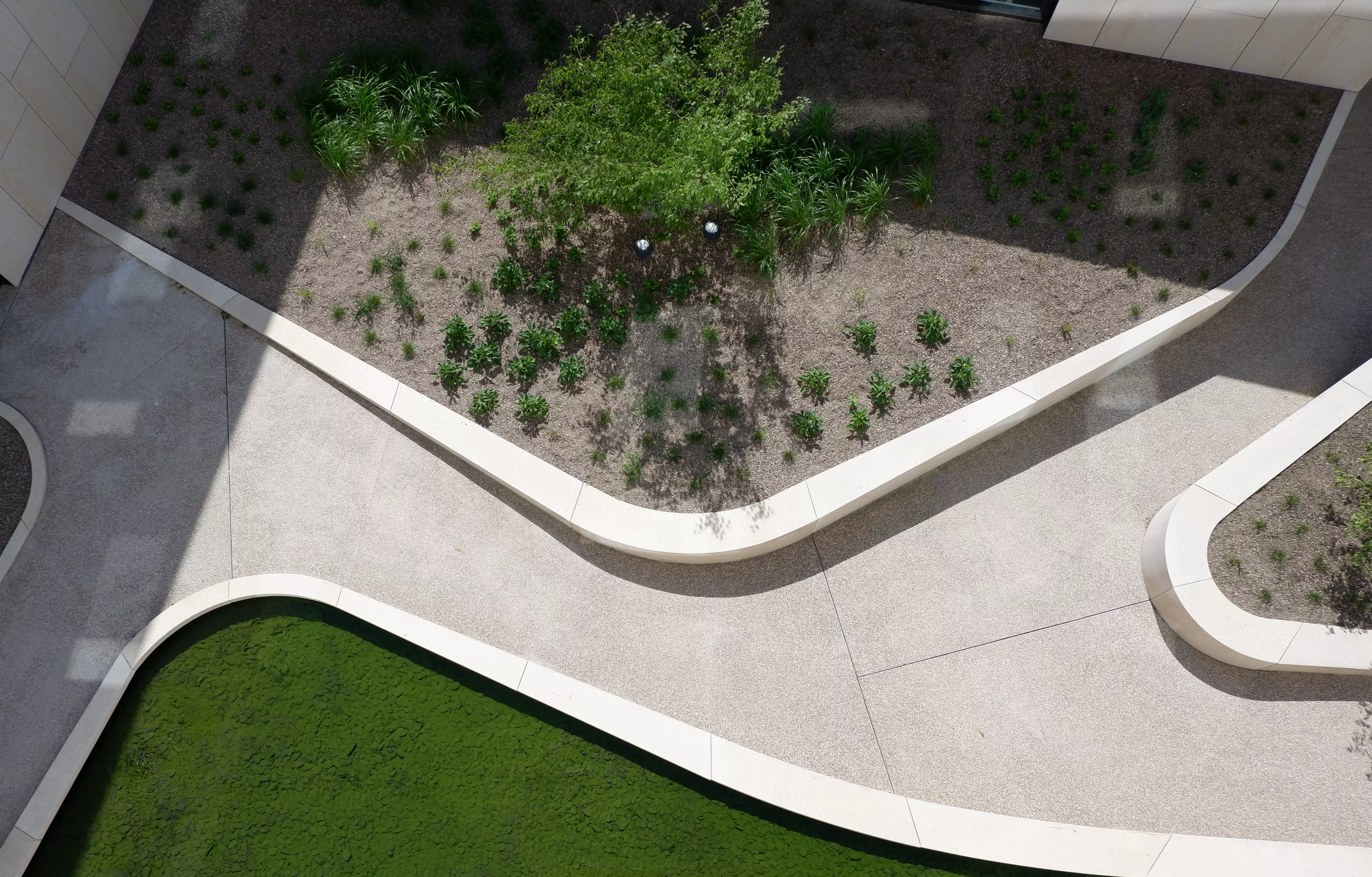 KONGOPLEIN

LOCATION: DEINZE (BE)
For Villa Neerleie, an apartment building in Deinze, we made seating elements for the inner garden, which serve as plant compartments and edging for a pond. The elements have been provided with recesses in which LED lighting has been incorporated. The top of the elements is in Fino (polished) and the other visible sides in Ferro (blasted)
 New Promenade in Middelkerke (BE) 
For the construction of the new promenade in Middelkerke (BE), we are producing and supplying 430 lm flood protection embankments with special reinforcement and 430 lm benches in fine sandblasted concrete. In addition, Urbastyle has delivered 30,000 m² of Tetrago Fino concrete paving stones in 3 different colours and 3 different sizes. (partner : Godelmann)
Image
Immagine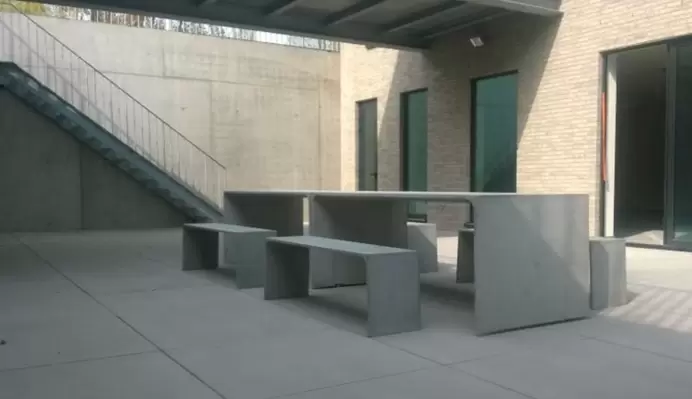 UHPC Picnic Tables and Benches in Smooth Finish in the Patio Area of the ADMB Building in Ghent
The ADMB and UNIZO groups have joined forces to build a new office building in Ghent. No one likes to stay inside an office all day when the weather is nice outside. Employees want to go out, enjoy the good weather and have lunch together on their picnic tables. Beautiful and elegant, the Line & Line picnic tables were designed by Manon De Smet. They provide this outdoor patio with a large and elegant workspace where you can also relax. The concrete used here is UHPFRC (Béton Fibré Ultra-Haute Performance), a special concrete made of fibers and which makes it possible to manufacture picnic tables and benches with a thickness of a few centimeters. The VISIA smooth stripping finish guarantees a smooth and uniform surface.
Customized Street Furniture, Slabs, Wall Copings and Steps For the Terraces Boieldieu in "La Défense"District
The primary object of the redevelopment of the Terraces Boieldieu in the 'La Défénse' district was to connect the square in front of La Défense with the terraces and this with the addition of pleasant green zones in this mixed district of offices, shops and residential areas. One of the main challenges was to level up the different zones, to redesign the flooring and to make the roof waterproof. We are proud to have been able to produce and supply the customized street furniture, the large format slabs, the wall copings and the stairs for this beautiful project – The Terraces Boieldieu in La défense district. All elements in architectural concrete have the same composition, creating a homogenous feel. Most of the elements have either a ground or a ground + shot blasted finish.
Image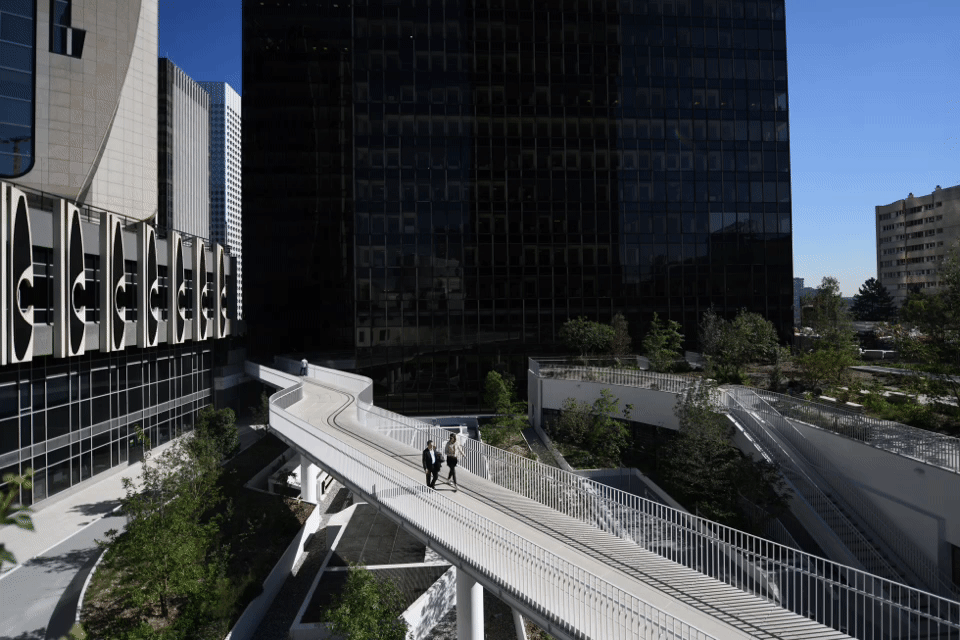 Immagine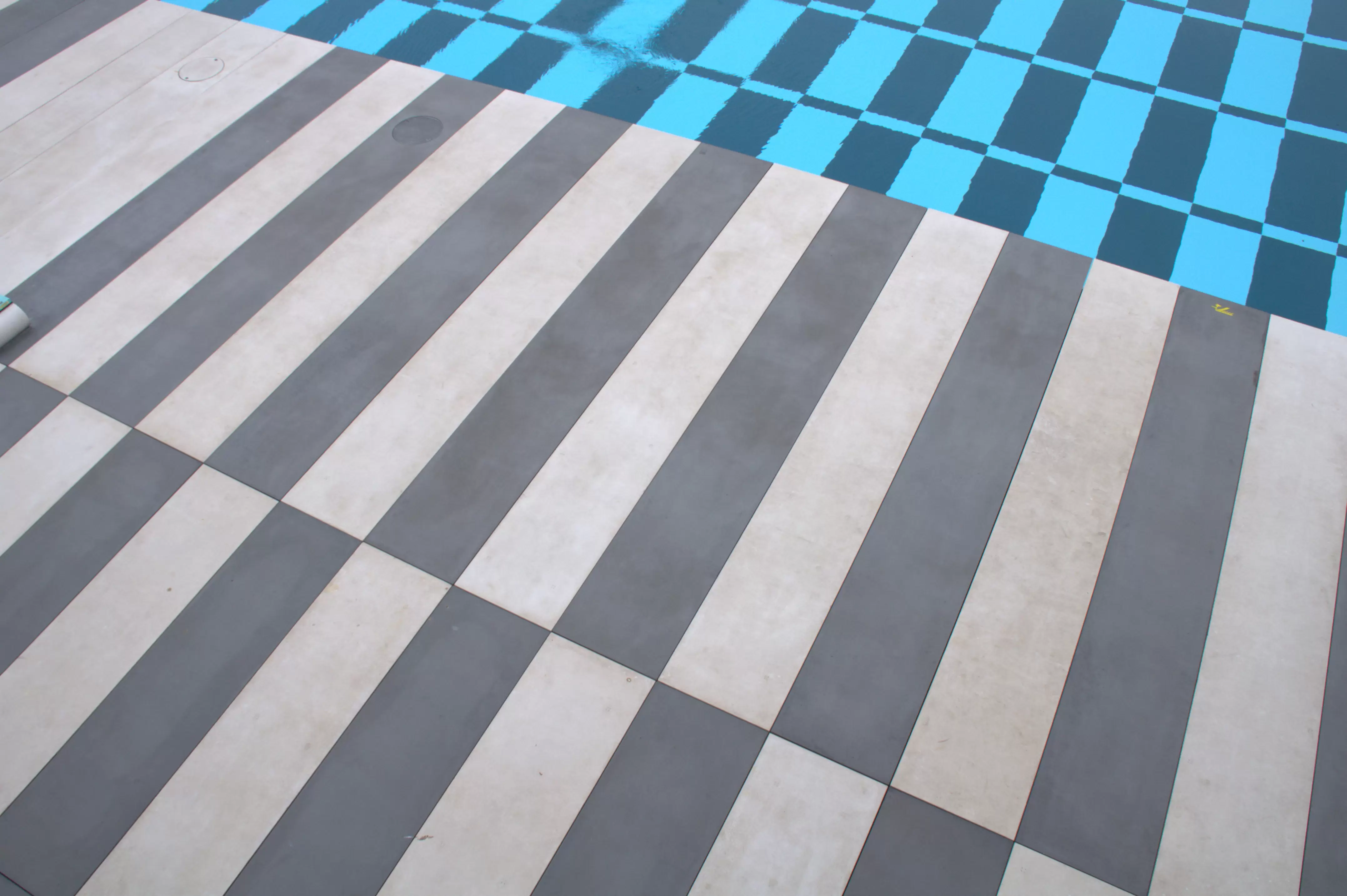 Urbastyle's Fasonado Large Size Slabs in Anthracite and White Acid Etched in the Water Prk of Marcinelle, Charleroi
It was an interesting challenge for Urbastyle to deliver large size slabs sometimes of more than 6 meters long and for most of them are in different dimensions. Our specialty being the non-standard, we produced and delivered more than 1800 m², 304 different references of large format slabs. We also produced stairs and diving board pedestals. The Water park in Marcinelle, Charleroi consists of prefabricated anthracite and white precast concrete large size slabs. The particularity of these slabs is that they have been studied to be both pleasant to see and to touch. Therefore, the finishing Satin was chosen. The large size slabs are also resistant to the pool water treatment products. During the FEBE Awards 2015 ceremony, Urbastyle won an Award in the category "Precast in Infrastructure".
•    FEBE Elements Awards 2015 winner in "Precast in infrastructure" category!
•    Large size slabs
•    Extra long slabs up to 6 meters
•    Black or white concrete
 
Benches Designed by Zaha Hadid Architects For the Award-Winning Scheme Pierres Vives in Montpellier
The Pierres Vives building was designed by Zaha Hadid Architects and houses three institutes: the archive, the multi-media library and the sports department. From a distance it seems as if the building is one monolithic entity, but from a closer distance the division of the three institutes is noticeable. Zaha Hadid Architects was also responsible for the design of the Pierres Vives landscape. The linking of the different modules of benches fit in with the design of the building. Just as for the facade elements, the choice was made for a smooth fair faced finish and a light grey colour. Depending on the type of module, one or more anti-skate profiles have been incorporated. The Pierres Vives building by Zaha Hadid Architects won a Royal Institute of British Architects (RIBA) European Award.
Image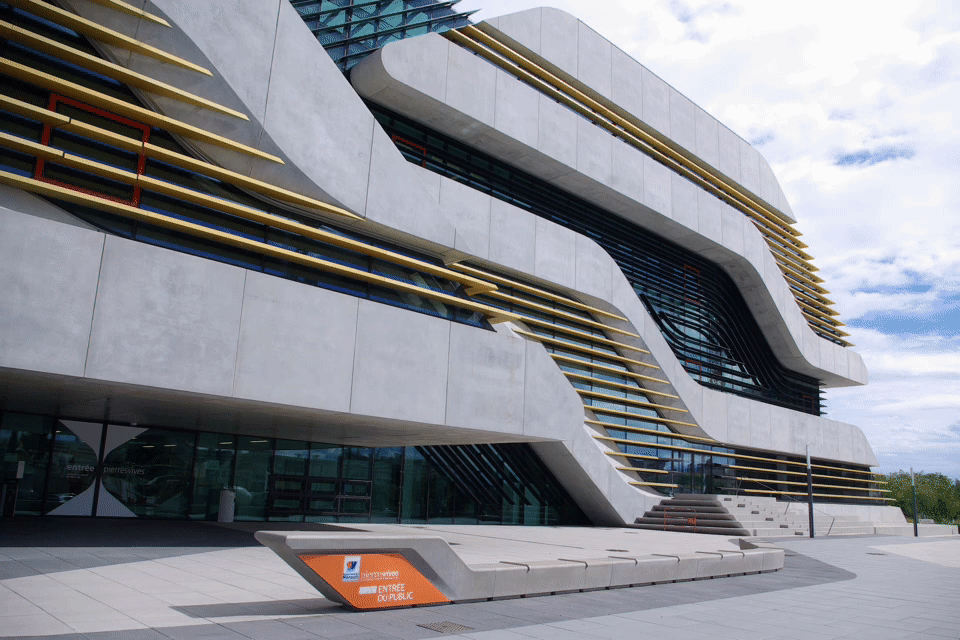 Image
The Upgraded Canal Basin in Hasselt 
One of the projects is Zuidzicht, designed by Buro II & Archi+I. The relationship with water, light and beautiful views formed the starting points of the project. Most of the flats have a view of the water. The paths in the courtyards between the 4 buildings were executed with white and anthracite Fasonado large sized slabs. The anthracite large sized slabs have the same finish and colour as the plinths of the buildings that were also supplied by Urbastyle. For the central inner garden a water feature was chosen, built with customized white architectural concrete elements which in turn have the same colour and finish as the white Fasonado large sized slabs.